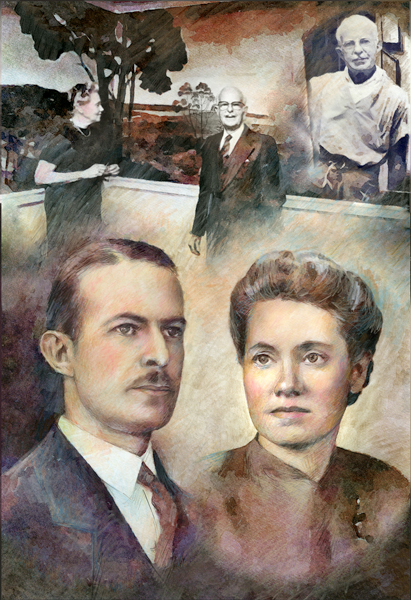 Dr. Newsom Pittman Battle was the son of John W.B. Battle and Cornelia Bradford Pittman Battle of Tarboro NC. He was descended from both Mathew and John Battle who had come to Virginia from England in the 1600s. By becoming a doctor, he followed in the footsteps of his maternal grandfather, Dr. Newsom Jones Pittman of Tarboro.
Newsom Battle served in World War I. He graduated from UNC Chapel Hill in 1924 and received his medical degree from the University of Pennsylvania in 1926. Dr. Newsom began his surgical practice at Park View Hospital/Boice Willis Clinic in Rocky Mount in 1927. He was considered one of the founders of that clinic.
Dr. Margaret White Battle was born in Detroit, Michigan in 1909 along with her fraternal twin, Florence. Her father, Prosper White was a doctor, and her mother, Jesse Tilley White was a nurse. They had emigrated from Canada and became US citizens in 1907. When Margaret first talked to her father about becoming a nurse, he encouraged her instead to become a doctor. Female doctors were extremely rare in the early 1900s. She graduated from the University of Michigan Medical School in 1933.
When Dr. Margaret White arrived in Rocky Mount in 1933, there were few hospitals in the country that would accept a female intern. It was rumored that Dr. Newsom Battle was not in favor of the new hire, but he soon came to appreciate her, and they were married in 1937. They built a house on Peachtree Street within easy walking distance of Park View Hospital. Dr. Newsom continued his surgical practice at the hospital, and Dr. Margaret pursued her OB/GYN practice from an office in her home. They raised two children.
Dr. Newsom had an interest in head injuries, and during World War II he performed surgeries at both Park View and the Rocky Mount Sanitarium because of the shortage of doctors. He also served on the NC State Board of Medical Examiners. He and Dr. Margaret worked to establish Nash General Hospital in the 1970s. He continued to practice medicine into his 80s and was considered a father figure by many seeking his care.
Dr. Margaret practiced for 50 years but retired in 1986 when Newsom's health was failing. Spurred by her interest in her husband's family history, she had also worked to establish the Nash County Historical Association. In By Faith and Heritage: A Compilation of Nash County Historical Notes, published in 1976, T. E. Ricks wrote, "Almost single-handedly she has located over 170 old homes, sites, and buildings in the county, has identified, and has catalogued them."
Deceased
Inducted in 2018